Interim Bishop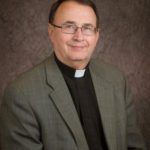 The Rev. Marcus Lohrmann
813-876-7660 ext. 225
bishop@fbsynod.org
The Rev. Marcus Lohrmann was appointed interim bishop in March, 2017 and assumed office on April 1.
The Bishop is the Pastor to the Synod Community and exercises the church's power to ordain and consecrate the Rostered ministers of this church. The Bishop is also responsible for strengthening the unity of the Church, exercising leadership in the mission of the church, and oversee and administer the general work of the synod and staff. The mission of the Office of the Bishop is to shepherd and resource rostered ministers and congregations as they proclaim Christ to the world.
Bishop Lohrmann comes to the position after retiring from in July, 2016 following 18 years as the bishop of the Northwest Ohio Synod.  He was first elected as bishop of the Northwest Ohio Synod in 1998.  Before serving as bishop, Lohrmann served as pastor of the Lutheran Church of the Good Shepherd, St. Louis; St. John Lutheran Church, Hicksville, Ohio; and Olivet Lutheran Church, Sylvania, Ohio.  He was ordained in 1977.
Born in Waterloo, Iowa, Lohrmann earned a bachelor's degree at Concordia Senior College, Ft. Wayne, IN. He earned a master's degree and doctorate from Christ Seminary-Seminex, St. Louis. Lohrmann and his wife Heidi are the parents of three children.
Contact Bishop Lohrmann about:
Pastoral Care for Rostered Ministers
Mission and Vision
Ordinations and Consecrations
Reports of Misconduct
Ecumenical relationships
Public Church presence